Hot Sale: Large-scale grinding mill machine, advanced technology, environmental protection, intelligence, low noise
5X series fifth-generation European intelligent grinding mill, is the series grinding mill with all thin oil lubrication system launched by our company based on 30 years of R & D experience and by absorbing the latest Germany grinding technology. It won six patents and went through the industrial energy-saving product certification, the European Union CE certification, Russia GOST certification and many other scientific and technological achievements appraisal. Unique structure design and all-oil lubrication system breaks through the structure and capacity bottleneck of the traditional grinding machines. It is the new replacement product of traditional pendulum mill, Raymond mill, and ball mill,and is also the preferred equipment for large-scale mineral processing plant construction, environmental protection and intelligent production.
| | | | |
| --- | --- | --- | --- |
| Model | Max feeding size(mm) | Finished powder size(mm) | Capacity (t/h) |
| 5X118 | 25 | 0.045-1.0 | 4-15 |
| 5X158 | 30 | 0.045-1.2 | 9-26 |
| 5X198 | 35 | 0.045-1.6 | 15-45 |
| 5X238 | 45 | 0.048-1.6 | 26-68 |
| 5X268 | 50 | 0.053-1.6 | 35-80 |
| 5X238 | 55 | 0.058-1.6 | 48-100 |
Patent Certificate:

Mill Gallery: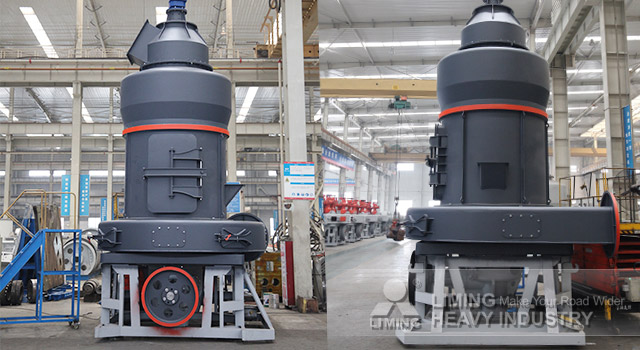 1. Eco-friendly and intelligent: Less dust, less vibration, low noise, reduce the risk factor of manual operation, simple operation, intelligent.
2. Economical operation: Thin oil lubrication, long oil change cycle, low frequency, low cost; the vulnerable parts adopt special technology and material, more wear-resistant, easy to replace, and low maintenance cost.
3. Advanced technology: Adopting German technology, strong power; main engine thin oil lubrication, long oil change cycle; no need to shut down to achieve oil injection lubrication; with oil temperature, oil level, oil pressure and other monitoring systems to protect the mill machine safe operation.
4. High capacity: Under the same power, the capacity is 20% higher than the traditional Raymond mill and the pendulum mill. Large capacity, low energy consumption, efficient and energy-saving.
Through vibrating feeder, the raw materials are continuously and quantitatively transported from hopper to grinding chamber. Materials are grinded in the grinding chamber. The grinded powder will be blown up and be classified by cage-type classifier. The qualified powder goes through the cyclone collector for separation and collection, and then be discharged by pneumatic discharging valve as final powders. The air current is sucked into centrifugal blower from upper pipe of cyclone collector. It is a closed air flow system and circulates under negative pressure.